Holding onto Sand ~
On Monday I had the most beautiful conversation with friend and mentor, Sharon Crawford. I was able to move the cobwebs from my next step and envision the spiritual and practical path for bringing my next dream into reality.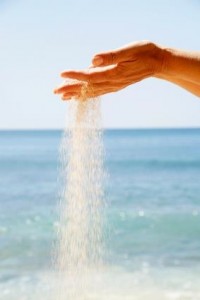 Then came Tuesday…sometime in the morning as I began to go over my next steps, a small push of "give up" nudged my stomach. I was surprised. Did the procrastination and doubt always start with the lightest touch? The way to not be seen landed onto my energy body with the sound of dragonfly landing on the water.Instead of grounding it out, I took some time to look at it and find it's source.
You know what I found? At the source of this experience was NOT self-sabatoge, self-doubt or family karma.
It was just my mind. My mind doing what it loves to do – running through possibilities.
My feelings about the possibility that my mind was showing me? Now that was the feeling of the let-down. My body's response was, "No, giving up is not the right move".  Maybe the self-judgement slips in there?  Why did my mind look down that path?  A point of conflict perhaps, but it's really discernment and course-correcting – not self sabotage.
Of course we all have patterns that are ready to be let go of and growth spurts that feel ungraceful (to put it mildly!). We are human and here to transform and change.
If we need our Yes! to remain vibrating at the highest level for us to BELIEVE in ourselves – it is like trying to hold a handful of sand….the tighter we squeeze the less we end up with.
I'm still in the middle of all of this and have no big platitude to share or fix any of us.
There is this question – Can you continue to believe in yourself while your emotions ebb and flow?
To your thriving and flowing life!
~Kim