Every Day Herbs & Aromatherapy Workshop ~ December 5th, 2010
Every Day Herbs & Aromatherapy Workshop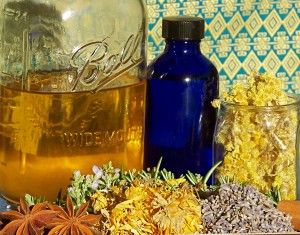 Have you ever wanted to know more about healing with plants or creating organic gifts, but haven't known where to start?  This is a great class for anyone who has looked through an herb book and felt like they were reading another language!
Kaleidoscope Spirit is offering this 1 day workshop just in time for the Holidays and the Winter cold season.  You will learn how to bring common herbs and healing essential oils into your life to promote health, beauty and wellness.  We will create herbal infused oils and get all gooey!  We will have an Aromatherapy lab to experience gorgeous essential oils and discover what lifts our moods!  We will diffuse the mysteries of infusions, decoctions, salves, scrubs and tinctures!
Your senses will be engaged by smelling, touching and tasting dry and fresh herbs.  We will be creating Lavender Salt Scrubs, Rose infused Oil, Calendula Spray & Comfrey Salve for you to take home. On top of what we create in class, you will receive extra recipes for your beauty needs, tips on avoiding colds from co-workers and how to make your own organic cough syrup when your cube-mate has already infected you.
I am really excited to share my knowledge of herbs and essential oils with you!  This is a passion for me and I hope to infuse you with the knowledge of how to bring the magic of plants into your lives.
Every Day Herbs & Aromatherapy Workshop
When: December 5th 11:00am – 4:00pm
Where: Oakland ~ Lake Merrit/Grand Theater Area, private address will be given to registrants
Cost: $100 ~ includes materials for take home items and print-outs.  A $50 deposit is required to confirm your registered spot.
How: Please call or send me an email to register for class.
kim@kaleidoscopespirit.com or 415-307-4622
This is a small group, hands-on workshop  – so feel free to dig in and ask a lot of questions!  We will provide tea, water, fruits and nuts, so please bring a light lunch for yourself for our mid-day break.