Dark Moon in Capricorn, January 11, 2013 ~
Tonight we are in the first New Moon of 2013. The energy is THICK with TRANSFORMATIVE POSSIBILITIES.
Capricorn is the Crystalizer of Dreams and the Imagination's Workshop. When we can let go of our judgements about what is possible or how things "should be", Capricorn can bring anything into reality.
This is the power of the last Earth Sign: Creation.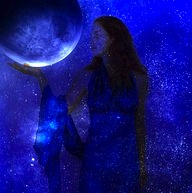 During the Dark Moon, we pray for our dreams. Tonight, with so much Capricorn energy surrounding us — allow your imagination to ignite and play with your heart. Unleash the chains that hold your ideas in place. Capricorn is the Goat Fish, for Heaven's sake — color outside the lines with your sacred magic!
It will be easy to sink deeply within yourself tonight, as we are still in Capricorn Sun, and Pluto, Mercury and Venus are in Capricorn, as well. Do not fall into the trap of planning today, that can all begin tomorrow.
May the ritual of going within and connecting to your Divine Creator bring you peace and an expansive heart ~