Full Moon in Leo ~ Wolf Moon
Full Moon in Leo asks up to make a stand for what moves us.  While our Spirits celebrated the light within us during Cancer Moon, we are now called to share this light with others.
Imagine yourself in your Sun in Capricorn workshop – loving to experiment with all of your talents.  Making this, making that.
Now take that favorite thing you made (whether it's plan, a recipe, an invention or a homemade spice rack) and walk out with your Proud Leo Moon into the Sun in Aquarius world.
"Look what I did!" we can exclaim.
Show off your creative imagination with other people.  Also be receptive to the creativity in others – later this month when we move into Pisces there may be a good opportunity to work together.
Remember to share your creativity, not your ego's need to be well received.  No one said anything about perfection here!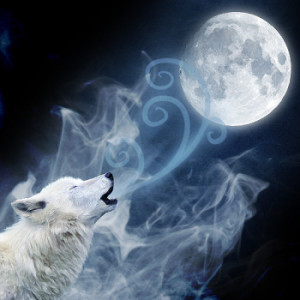 SHINE ~ EXPAND ~ CREATE
Tonight is also called the Wolf Moon.  Wolf is the great Teacher.  Wolf uses its voice for expression.  Deeper than words, Her song is emotional as She calls to the Moon.  Singing, chanting or using instruments (if you plan on prayer this evening) will help balance release and expansion.
Every blessing ~Kim