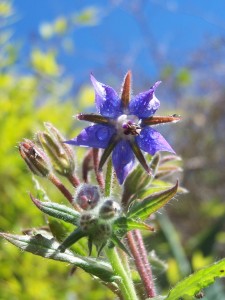 You know you need some quiet time to yourself. Turning inwards and not thinking so much sounds blissful.  But everytime you get comfortable, light some incense and close your eyes you feel like "it's just not happening".
I get it…the quest for complete emptiness or quiet is paved with shrieking gnomes and the entire cast of characters from my high school.  While I've worked through that and have found the abundant space where silence meets light, my day to day meditations are creative.  So when I turn inwards I use the static from daily life to go to work for me.
My personal meditations are a time for me to get to know myself even better, tuning into my physical and spiritual bodies.  I feel much more clear and true by giving myself something to do and allow my creative energy to unfold and expand.   Creative visualization allows my mind to have something constructive to take on, while my Imagination takes the reins and uncovers pockets of hurt or love or freedom that are waiting to be discovered inside of me.
Here is a simple visualization for you to try ~
Get into a comfortable position, either sitting in a chair or on the floor, lying on your couch flat or propped up.
Close your eyes
Take a big inhale and allow a huge exhale through parted lips; honoring making this time and space for yourself
Just breathe in and out 9 more times (or more)
Allow your body to show signs of becoming relaxed, notice your shoulders yawning, your toes may want to flex or your lower back may become more at ease
Imagine the silhouette  of your body

See it shining as 1 single color, maybe bright green like moss on a tree

Choose another color, maybe hot pink like an azalea flower

Imagine this second color moving into your silhouette from the top of your head

Slowly, watch the line where the two colors meet moving down your head, down your neck, cascading into your torso and into your arms

As the colors change, notice how your body is becoming even more relaxed

Your ribs loosen up, your belly feels comfortable

Watch the colors wash through your hips and begin to come into your legs

Take a moment to notice your legs, are they tingling? do they want to move or stretch a bit?

Let the colors move, inch by inch, down your thighs, through your knees, along your calves and finally pouring into your ankles

As the colors move through your feet, imagine the first color completely moving out of your body and releasing tension from your body

Look at your silhouette shining brightly with this new color

Breathe comfortable breaths

Allow a 'Thank You' to originate from your heart and send it to every cell of your body
There is so much to expand on from here!  You could do it again.  You could do it in reverse.  You could intend the color moving out to represent something you would like less of in your life, such as indecision.  What you are doing is creating more body awareness.  Try doing this exercise before you go to bed each night.  You may begin to notice at first what you hold on to and where you store it (sorry shoulders!).  Some of us ignore parts of our bodies (so many clients comment that they are not used to feeling their legs) and you will become more aware of them and how they serve you.  Just notice!
There are so many ways to meditate and things to do once you are "in there".  Create your own practice in whatever way serves your sanity.  Play and do what feels good to YOU!